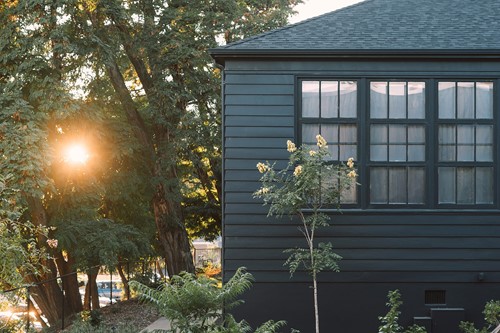 Photo by Maria Orlova from Pexels

With a greater focus on energy efficiency in recent years, new construction has been using green features. These features are designed to reduce negative impacts on the environment and help homeowners reduce their energy usage. If you're planning to have a green home built, the following are some of the more common energy-efficient features available. Having these features installed in your new home can significantly lower the amount of energy you use and the amount you spend on your utility bills.
Eco-Friendly Windows
Newer windows typically have one or more energy-efficient features that help homes stay warmer in winter and colder in summer. This helps cut back on the energy used for cooling and heating homes. Low-emittance, or low-E, windows are made to reflect more of the sun's UV rays, which helps keep homes feeling cooler during summer while still letting in plenty of natural light. Vinyl frames with insulation and fiberglass frames provide high amounts of resistance to heat flow, which also helps reduce energy usage. Other eco-friendly features to consider for windows include gas fills and double or triple glazing.
Energy-Efficient Appliances and Plumbing Fixtures
Stoves, washers, dryers and other major appliances typically use up a lot of energy if they're older models. Green new construction homes usually come with Energy Star appliances, which helps improve energy efficiency. These appliances require less electricity, resulting in lower energy bills. Green new construction homes also tend to have plumbing fixtures with energy-efficient features, such as high-efficiency toilets and low-flow showerheads and faucets. These fixtures use less water overall and can significantly lower the amount of water your household uses on a regular basis.
Energy-Efficient HVAC Systems
HVAC systems are one of the biggest sources of energy usage in homes. New eco-friendly homes often have an HVAC system that is designed to use lower amounts of energy overall, such as a heat pump or geothermal system. These HVAC systems also use cleaner sources of energy compared to gas furnaces and other heating and cooling systems that require fossil fuels. Green homes also usually have a programmable thermostat rather than a manual one. Programmable thermostats provide an easier way to keep homes cooler or warmer as needed without using as much energy.
Eco-Friendly Lighting
Green new construction homes are much more efficient when it comes to lighting compared to older homes. These homes often have compact fluorescent (CFL) or LED bulbs instead of incandescent bulbs that use up higher amounts of energy. These energy-efficient bulbs provide a lot of light without using up as much energy, and they last longer. Green homes also tend to have design features that allow as much sunlight in as possible, such as skylights or oversized windows. Increasing natural light helps cut down on the amount of lighting used during the day.
Cool Roof
Cool roofs refer to roofing that is designed to reflect more of the sun's rays. These roofs, which are often made of metal and light in color, can help keep homes much cooler inside when it's hot out. This leads to a lower need to run the air conditioning or have ceiling fans on. Having this kind of roof can help you lower your energy bills, especially during summer.