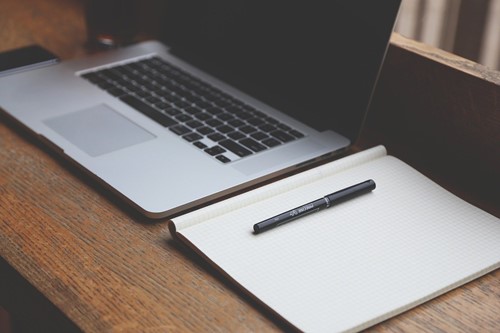 Built-in desks provide an ideal place to work from home, do schoolwork or work on hobbies or crafts. These kinds of desks can be attached right to the walls in your home. Built-in desks have several advantages over standalone desks, such as blending in with the surrounding décor better and taking up less space overall. A built-in desk can add functionality to almost any room in your home while also enhancing its appearance. If you're considering adding a built-in desk to your home, these ideas can help you get started.
Built-In Desk and Cabinetry or Shelving
A built-in desk surrounded by built-in cabinets or shelving is a convenient setup when you need easy access to books, craft supplies, office supplies or other items. You can build the desk first, then add shelves or cabinets around it. For example, you can put floor-to-ceiling shelves or cabinets on both sides of your built-in desk, depending on how much storage you need. Another option is to add built-in cabinets or shelves above your desk where you can easily reach any items you need.
Floating Desk
A floating desk takes up less floor space, which is a good choice if you have limited room. You can build a floating desk using a thick, durable piece of reclaimed wood or another type of wood that matches your interior décor. Make sure the wood you're using is the length you need for an adequate work surface. With a floating desk, you don't have to worry about attaching legs and ensuring that there's enough space to put your desk. Instead, your built-in floating desk can be attached to the wall, where it only takes up a minimal amount of space.
Traditional Built-In Desk
If you want a traditional desk with a work surface and drawers, you can build one out of wood. Your DIY desk can be as large or as small as you need, and you can add enough drawers to fit your needs. The drawers for your built-in desk can go on one side or on both sides. Depending on how big it is and where you plan to put it, you can build a corner desk in your bedroom or den, or you can make a desk that takes up the length of one wall in a home office. Your built-in desk can have a simple, flat work surface, or you can add a higher back with additional shelving if needed.
Vintage Desk
Add style to your home with a vintage or farmhouse vintage built-in desk. You can build this kind of desk all on your own using rustic pieces of wood, or you can refinish or paint an antique or vintage desk and attach it to the wall. Adding decorative touches to your DIY desk can give it a whimsical appearance.