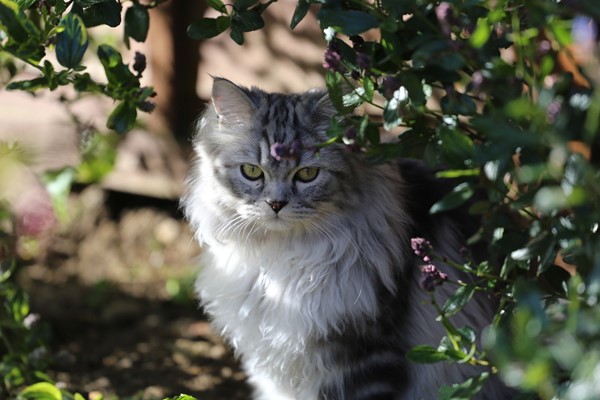 Are you trying to keep cats out of your garden to protect your birds or to stop them from defecating in your yard? Or perhaps to keep wandering cats from mingling with your cats. Whatever the reason, with the correct approach, you can successfully keep cats out of your garden for good and stop them from using it as their private litter box.
1. Preventative planting with chicken wire
Place chicken wire down on top of your soil or mulch, across the garden bed before you plant. Cats dislike walking on the chicken wire, so this will keep them out. Using your wire cutters, you should be able to open up pockets in the chicken wire sufficiently large for your plants to grow.
2. Cat repellent plants
Some plants give off smells that repel cats. One good example is the plant known as scaredy-cat plant. Other plants that work just as well at keeping cats away are rue, lavender, and pennyroyal. You can plant these and also the other plants in your garden for all-around effectiveness.
3. Ultrasound devices
Some ultrasound devices function on a high frequency that is imperceptible by humans but is rather intolerable for cats. You just position the device so that it faces the garden. A motion sensor detects the intruder's presence, and the device gives off its high-pitched sound, frightening off the cat.
4. Smelly substances
Cats apparently don't like dried blood as is present in blood meal fertilizer, or citrus scents. Place peels of citrus fruits like oranges, lemons, limes, and grapefruit in your garden to repel stray cats. You can also use mothballs or cayenne pepper flakes although they sting.
5. Keep your yard, garden, and property clean.
Clear gardens decrease visits from all stray and wandering cats. Be sure to avoid feeding your own pets outside as the food odor serves to attract other animals, including cats. You should also keep your outdoor grill and any other outer eating areas clean to prevent food smells. Secure your trash bins so cats cannot gain access. If you observe urine spray on your garden walls, wash them with odor neutralizer to stop the cats from returning.
If your community has laws, ordinances, or homeowner association restrictions, that prevent you from taking any of these steps, you can ask what can be done legally to stop wandering cats.