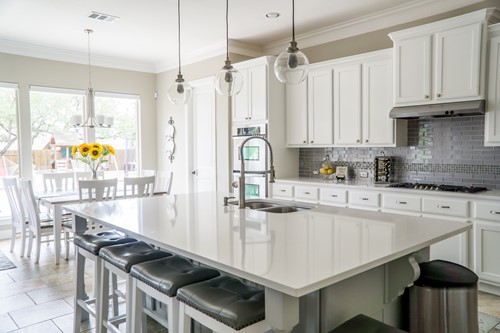 Photo by Mark McCammon via Pexels
If you usually spend your weekend sorting for ways to update your home, then doing some minor kitchen upgrades might be the ideal way to spend this weekend. Here are some easy kitchen projects that you can do in just a couple days, and you'll be glad you did.
1. Change Your Hardware
Changing your kitchen hardware will only cost you a few bucks, with no additional hectic work. It's one of the perfect ways to experiment with gold or other elements in the kitchen before you start big budget items like a faucet or range hood. You can create more style if you add campaign-like, metal corners to your kitchen cabinets, too.
2. Free Your Cupboards
You don't have to take a big step to get newer-looking or different cabinets. Little by little, you can add more open shelving without replacing your the cabinets. Remove the doors from a couple of your upper cabinets and fill any holes left by the hinges. Add puck lights. Use them to display your pretty and colorful dishes or glassware.
3. Paint Your Kitchen Ceiling
Give your kitchen a whole updated look by simply painting the ceiling. Over time, a white kitchen ceiling yellows from rising cooking vapors. Refresh the white or change it to a completely new color to give the room a fresh glow.
4. Add Pendant Lightning
Adding a few pendant lights above your kitchen island or eating area helps make it stylish and more functional. Replace a recessed light with a pendant fitting … no rewiring necessary. Visit your favorite DIY site and order a pendant light kit to transform your kitchen into something remarkable.
5. A New Backsplash
If it's been a while since you've done a kitchen remodel, perhaps now is the time to refresh your backsplash. The truth is, you don't even need a contractor to handle that. There are numerous peel-and-stick kits that you can use to transform your backsplash into something magnificent. Make sure you measure the area you'll be working on before you go shopping. If you're removing tile, you may need time to fill any holes hidden behind the current backsplash.

There are many other things you can do to transform your kitchen over the weekend. These are minor upgrades that cost very little but give your kitchen a surprising boost. If you're planning to place your home on the market, let's discuss some ideas! Contact me, and we can chat about ways to get you top dollar on your home upgrades.