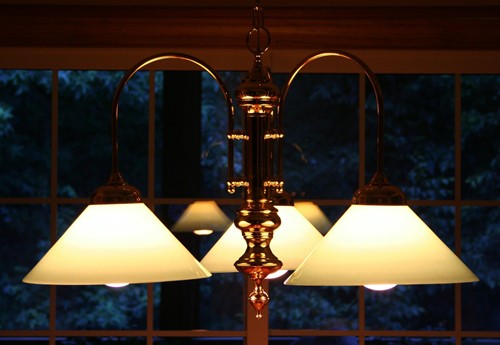 In most homes, the base lighting is drab and dull, often doing little to light up your life. Thankfully, it is quite easy to transform the lighting in your home and create the perfect atmosphere for your everyday activities. All you have to do is follow these four tips and watch as your efforts turn the lights up to 11 in every way possible.
Take a Cooler Turn
The reason your home's lighting may not be knocking your socks off is its base temperature. Most homes have a rather warm light temperature of 2700K, which leaves everything looking a bit yellow. This is especially apparent as you try to take pictures inside, as they turn out washed out and grainy.
So, for a quick fix, all it takes is a switch to cooler bulbs, typically marked 3500K to 5000K. To go one step further, layer the lights in your room by using different temperature ranges and intensities, allowing you to customize the lighting to your mood and activities.
Replace Your Shades
If the light fixtures in your home are bumming you out, you may feel inspired to make a switch. Unfortunately, that step usually requires some wiring work, which could put you at risk of electric shock.
To make a big change without the risk, simply look to replace the shades instead. Using the original shade shape and size as a guide, select the colors and materials that make your heart sing to transform the lighting in an instant.
Embrace Task Lighting
Chances are that your lighting woes link directly back to not having enough light for all your tasks. Your kitchen might be too dim for cake decorating or perhaps the dining room lacks the light needed for building models.
Thankfully, fixing this problem is as easy as setting up task lighting in those key areas. You can choose from magnetic LED fixtures to articulated lamps that clip on your desk, giving yourself just enough light for every task.
Go with a Smart System
One of the biggest changes you can make is going with smart lighting systems in your home. By simply switching to smart bulbs, you can change the color and intensity as you wish, forever altering the ambiance in your living space. In fact, you can even set the changes ahead of time and ensure your lighting lives up to expectations every hour of the day.
In addition to creating the perfect atmosphere, your smart bulbs can even save you money by switching off automatically at each preset time. And since they are LED, they use 75 percent less energy than incandescent lights when you do have them turned on.
By following these four tips, your home's lighting will be forever changed and for the better. You can continue to make adjustments as you wish to customize your living space to your needs and preferences. The sky is the limit in what you can do when you set your mind to optimizing your lighting.